Styling Ideas For Fall 2013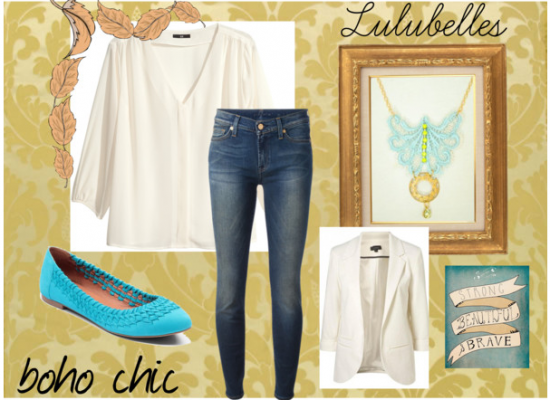 This outfit is styled with one of our long necklaces that we made out of vintage lace. It has some fun bright neon accents. Bright colors are still on trend for the fall and winter, and this is the perfect way to add some color.
Looking for a perfect casual date night outfit? How cute is this? We paired our vintage lace earrings with an adorable polka dot sweater, and some comfy jeans.
And lastly our night on the town look. We have a new obsession with tassels and feathers. We have tassel earrings as featured here, plus a selection of long tassel necklaces. And this feather bracelet is a must! Perfect for an everyday piece, and you can layer it with some bangles.
Thanks for stopping by! We hope we inspired you, and please stop by Lulubelles.com for our newest pieces.
XO~Gretchen & Natalie